About Li-Lun Wang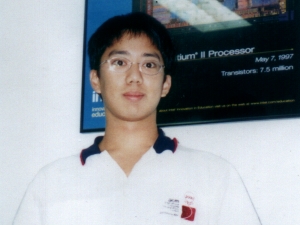 Officially, my name is Li-Lun Wang or 王立綸 in Chinese. I am also known as Leland Wang. I retired from R.O.C. Air Force as a Second Lieutenant in February, 2004. I graduated from UIUC as a PhD in CS. I joined Google Research as a software engineer since 2012.
Research and Education
I have obtained the degree of BSE from the National Taiwan University. I am interested in many subjects in computer science, especially those related to artificial intelligence. My undergraduate research is about machine learning and support vector machines. I worked with Professor Gerald DeJong on my PhD.
Publications
Education
Awards and Competitions
Experience
I list some of my extracurricular and working experiences here.
Computer Hardware Engineer, Second Lieutenant, 4th Control Report Center, Tactic Wing, R.O.C. Air Force, 2002--2004.
Research Assistant to Prof. Chih-Jen Lin, 2001--2002.
Part-time Programmer, Information System Lab, Insitute for Information Industry, 2000--2001.
Short-term Programmer, Department of Optical Information Technology, Schmidt Scientific Taiwan Ltd., 1998.
System Administrator, Network Center, Chien-Kuo Senior High School, 1996--1997.
Academic Officer, Information Club, 1996--1997.
Projects
Here I list some of my interesting projects and personal hacks.
Projects
Many of the projects are from the courses I took in the university.
File Sharing Community, Honorable Mention of Trend Micro Natural Born Programmer Contest 2001.
A Scheme to Oolong compiler, Final project of Compiler.
8051 motherboard, project of Microprocessor Experiment.
A Korn-like shell, assignment of Advanced System Programming.
A CPU pipeline simulator, project of Architecture.
An SIC/XE assembler, assignment of System Software.
An m4-like macro processor, assignment of System Software.
An untraceable program, assignment of Assembly.
Hacks
I have been using FreeBSD since 1996 and am the maintainer of several FreeBSD ports. Most hacks here are for the UNIX-like environments, especially for FreeBSD.
Contact Information
Please email any comments and suggestions to me at my GMail address llvvang (note the double v). You can find my pgp public key here; the fingerprint of my public key is 5F58 1A18 2D61 FCF0 7594 BDFF 0903 3BB7 9076 9A10.